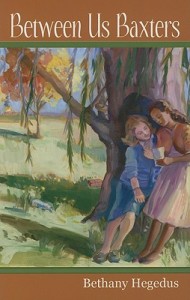 The Making of Between Us Baxters
What inspired you to write about the civil rights movement?
In 5th grade, Mr. Dykeman showed our class a PBS special on the civil rights movement. I lived in a suburb of Chicago and had only been to the South one time, to visit my ailing grandfather who lived in Alabama. That day in that classroom, something in me changed. I saw hate. Thankfully, it wasn't in person. That would come later. But as I sat in my desk biting my nails, I watched the news footage of fire hoses being turned on protestors, and dogs leaping, barking, and attacking throngs of people. I read the sign one man carried: "I am a man." I saw for myself the fear and the hatred. I was flabbergasted, and I was changed.
Then, when I was 13—around the age of my protagonist, Polly—I moved to Georgia. My dad loved to take long drives—and so one Sunday we found ourselves driving through the mountains looking at the fall foliage. We passed a wooden sign nailed to a tree: "Coon hunting season, open all year." I asked my mom what animal was being hunted. Her sad eyes let me know it wasn't an animal the sign referred to, but a people.
After college—in the 90's—I taught English and Theatre at a rural high school where the Klan was still active. I was warned on how to cast my shows; not to let blacks and whites play opposite one another as romantic leads. I heard stories that before I came to teach there that the prom was almost cancelled because an interracial couple planned to attend.
I am not color blind; neither are my characters. I have stood beside too many friends where their color was dismissed, where they were made to feel their "blackness" wasn't a part of them, or something to be proud of. Race doesn't define us, limit us, or predetermine expectations. It didn't in 1959, despite Jim Crow, and it doesn't now.
Are your characters based on real people and events?
Though the 1950's are accurately portrayed in Between Us Baxters, the characters aren't real people or based on real people. (Note: my grandmother did have underarms that jiggled like Jell-O, but she was nothing like Meemaw.) But as a writer with an acting background, I did draw on my own emotions. I asked myself a series of questions. What if I could not be friends with my best friend because we weren't the same race? Would I speak up when a black mother was kicked off the bus because her child was crying? How would I feel wearing my best friend's hand-me-downs?
I also pulled from memories—times I have felt anger, injustice, the shaky ground of love, and the steadfastness of family. I was never faced with the same set of dire circumstances Polly and Timbre Ann are but my friendships and relationships were frowned on by some. I thought about what it would have been like to be a child at that time, "where right could be wrong, depending on who was watching." As hard as it was, I studied pictures of lynchings, church burnings, and bombings. I read about the history of the Ku Klux Klan and the development of Citizen's Councils. I depended heavily on the Ellen Levine's book: Freedom's Children: Young Civil Rights Activists Tell Their Stories.
I chose, in writing this book, not to depict any historical event—say the Montgomery Bus Boycotts or the bombing of the Sixteenth Street Baptist Church in Birmingham, but to depict a fictional town and two families in particular, where the large scale actions of the day affect each family deeply and alter them, and the town, forever.
How long have you been working on Between Us Baxters?
Ten years ago, I moved to New York City to act. After I got here and began pounding the pavement it didn't take me long to realize I was a writer, not an actor. I could create characters on the page—the same as I could on stage but I found on stage I couldn't get to the truth in my performances. On the page, I was fearless. I took my first writing class at Gotham Writer's workshop and never looked back.
From that class, I began meeting twice a month with a fellow writer and then a larger group formed. I heard about a low-residency writing program in Montpelier, Vermont, and before long I was making twice a year trips to Vermont College. (Now, known as Vermont College of the Fine Arts.) In 2005, I earned my MFA and now my writer's group—the Champagne Sisters—meet in the city every Thursday night to discuss, read, and critique.
Polly's story has been living in me since I was a girl. I found a part of her in Mr. Dykeman's class in 5th grade, another part of her when I moved to Georgia and fell in love with azaleas, Spanish moss, the lake near our house. I found her father when I researched the uglier aspects of the South's history. I saw her eyes and Timbre Ann's eyes in the kids I used to teach and, when I moved to New York City all of those pieces of Polly came together for me.
I am excited to have readers meet Polly Baxter, to share in her friendship with Timbre Ann and to untangle all the twists and turns being a Baxter takes her on.