We writers love talking process. So much so that the smart and perhaps a little evil (one of her next books is titled Evil Librarian) Michelle Knudsen and Paula Freedman put together a Writing Process Blog Tour. Whether you're a fellow published author  or have yet to be published, this collection of blog posts offers tips of the trade, confessions on what makes a writer's process unique and much, much, more.
Last week's writer spotlight was on the mysterious F. A. Michaels, where she shared about her process, writing multiple books at a time, and some funny facts about her new time travel romance. This week, I am in the hot seat, as is Donna Bowman Bratton.
What am I currently working on?
Oh, this is a scary question. I usually love talking about what I am working on. I am not one of those writers that believe talking about a project steals energy away from it. Yes, I believe you shouldn't share a project too soon, when someone's reaction or questions may stop you from getting to the page, but once I begin, I have a trusted circle of writer friends with whom I routinely share pages. A small circle is not the interwebs…but here goes; I am flying without a net, just like the main character in my dark YA circus fantasy.
Yep, you heard right. Me: Middle-grade realistic and historical writer and picture book author am working on a YA fantasy!  The plot is still developing; I am about 75 pages into the first draft and it is unlike anything I have ever written before. The main conflict is not only over who will control the fate of the Ibolya circus, but if Magik will be wiped from the land of Magya, as General Soros works to cleanse the land of all those with Magikal blood. Sixteen-year-old Ada Barbas, an acrobat and Ibolya's premier act, is at the center of the struggle. As Soros develops a blood test to uncover who contains Magik or not, will her bond with Emil, the Joiner, who has miraculously moved to the ranks of a Talent, be severed forever?
It's the first time I am working in omniscience as well. Here is a small section, from the Teller's point of view.
The Teller held her breath as twenty feet away, a caped Barker and blanketed figure moved through the night. At first, because of the mention of drink, the Teller wondered if the Barker was leading another village girl to his wagon, but the blanketed figure was as tall as the Barker and had larger shoulders, like that of an ox. It had to be Emil, cloaked in a thick blanket to keep warm, as the Barker led him to Isten knows where.

She had left her hand drawn cards in her wagon. Not thinking to bring her sacred pouch with her was foolish, and the Teller could not afford to be foolish. One palm resting on the rough bark of the tree, she moved the other to her heart. She bowed her head and prayed, "Show me where they go, if this knowledge need be mine."

With eyes closed, with no stars shining under her lids, Orion's bow lit up the light of her inner eye and it pointed directly at the girl with the white hot heart, Ada. They were on their way to wake the daughter of the dead.

The Teller pushed off from where she'd stopped, careful to place her wooden cane a few inches in front of her, and hurried herself along.
How does my work differ from others of its genre?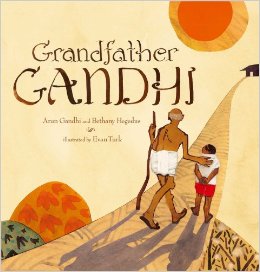 Hmm. We went from a scary question to a hard question! This Writing Process Blog Tour is no joke. As I write for different age groups, and in various genres, I'll answer this question by looking at one project: my latest release, Grandfather Gandhi, a picture book I co-wrote with Arun Gandhi, the fifth grandson of Mahatma Gandhi.
What reviewers are saying about the book is that it takes a difficult concept,  that of anger and how to use it for good, and keeps it at a child-like level, exploring the emotions of 12-year-old Arun and his relationship to his grandfather in a way that isn't "burdened by its message."
These reactions were music to my ears, as we worked long and hard to stay true to Gandhi's work but to do so in a way that rang true to kids, and which also informed adults of the lessons one can learn from listening to our anger.
And we didn't stop with the book, but created a Live Your Life as Light pledge for kids and adults to take. The pledge is meant to remind us of the possibilities and changes we can make in the world, when our anger is used to remedy injustices and point us toward what we care deeply about.
Why do I write what I write?
When I talk to kids in schools, I share with them what I believe are the ways to become a writer. You start as a reader, and from
there you write about what you love. I tell them my story of being a little kid who made up sing-songy-stories about my imaginary friend Agapito. Why did I make up these stories? Because at age four, Agapito is what I loved.
Then, I say, as I got older, I heard the "write what you know" line. I tell them I don't believe this…but that I've made up my own line, "write what you care about." My books have dealt with the Civil Rights era, the Underground Railroad, class relations, family dynamics, and listening to one's anger. With the new one, that dark circus fantasy, I am exploring the power of belief, in oneself and in a system, and what our limits are as humans. The list of what I care about is never ending. The list continues, and so hopefully will my ideas.
How does my individual writing process work?
My process varies from book to book, but one thing that stays the same is that I am a morning writer. I write at other times too, whenever I can fit it in among teaching, managing things at The Writing Barn, and promoting books that are out, during the many times that morning writing doesn't happen. But in a perfect world, I'd write for two hours upon waking every morning. When I do this, I feel centered, restored, and have more energy.
I am a slow drafter. I don't outline, but I draft to discover. This means I make lots of wrong turns, but usually those wrong turns teach me something about character, about the book I am writing, and always about myself.  But not being a plotter doesn't mean I don't care or pay attention to structure. I keep my six key scenes in mind, I constantly ask myself what my main characters want, how they are trying to get their needs met, and what the next thing is that needs to happen. In my earlier novels and picture books, structure would come later, It would be something I worked on when I got to the end of a draft. Now, it is something that happens while I draft, but still something I need to expand, clarify, and work on as I go.
I have two writing groups. One meets every month; the other, every week. I share pages in chunks with each, and then try to forge ahead before the next meeting. When I am busy with my teaching and mentoring, I make myself get to the blank page by reminding myself that that is what I am asking my students to do. Get a scene down, no matter what. Get a partial scene down. Get something down.
My process has changed and will continue to change but those staple acts: writing first thing in the morning, showing my pages to writers I trust, using those groups to set deadlines and encourage productivity, sharing what I've learned with my mentees, keeping an open mind and heart…well, those are the core tenets of my writing life.  As things change and shift, those are the parts of my process I can always count on. And for that I am grateful.
Thanks for having me as a part of The Writing Process Blog tour. Next week, May 5, these talented authors will be joining the tour:
Sarah Sullivan lives and writes from her home near Williamsburg, Virginia.  She is the author of All That's Missing, which received a starred review from The Bulletin of the Center for Childrens Books and 4 picture books, including Passing The Music Down, an N.C.T.E. Notable Children's Book in the Language Arts.  She has an MFA in Writing for Children & Young Adults from Vermont College where she won the Harcourt Post-Graduate Scholarship.  She loves theater, music, cooking (but not everyday) and paddling in her ultra-light canoe.
Alicia Potter is a Boston-based author of fiction and nonfiction picture books. Her new picture-book biography, Jubilee!: One Man's Big, Bold, and Very, Very Loud Celebration of Peace, illustrated by Matt Tavares, debuted in April 2014 from Candlewick Press. She also is the author of Mrs. Harkness and the Panda, illustrated by Melissa Sweet, which won a Cybils Award for Best Nonfiction Picture Book 2012, and Fritz Danced the Fandango, illustrated by Ethan Long. Visit her at aliciapotterbooks.com